Bewertungen
Gesamtbewertung des Besitzers

Bewertet am: 14.10.2022 Length of stay: 1 Monat
I recommend a landlord and a company Halyna H.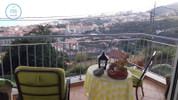 Very nice and cozy place with a wonderful view from the balcony. Great joy to have a cup of tea and see the ocean and mountains. The apartment is very well equipped and has everything for a long stay. Big spacious living room with lovely plants and candles with a nice smell creates a very pleasant vibe. Good bathrooms. The bathtub has a window with an ocean view. The only thing we would suggest is to improve the bed. It is comfortable, but quite noisy when moving. Very good experience from appartment overall.
Joana is a very helpful and nice host. Always replies promptly, a very understanding and kind person.

Thank you for a great experience! Highly recommend this apartment.

Denys C.

The apartment is in reality better than in the photos, there's everything you may need for a long-term comfortable stay. It's quite spacious and has some working places. The bed in the master's bedroom is so comfortable, it was so nice to fall asleep and wake up to the sounds of mountain spring running under the window. The view from the balcony is absolutely fantastic. We spent most of evenings there contemplating aunforgettable sunsets. Rosabel with her family are the sweetest people, very responsive and helpful, they treated us to the delicious fruits and vegetables from their garden. We enjoyed our stay in this apartment and strongly recommend Maksym S.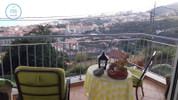 The apartment is very nice located and also quite spaceful. Amazing view from the balcony. The internet connection is very good, so good spot for people working remotely.
We had some troubles with the bed that was cracking very much, however, we found a way to re-organize the space a little to fix it. Joana, the property manager, was helpful and easy to communicate with. Dariusz R.

Bewertet am: 12.09.2021 Length of stay: 2 Monaten
Nice place, but should tell you to atleast have a car since it's waaaaay out in nowhere

Magnus L.
Referenzen
Es stehen noch keine Referenzen zur Verfügung