Bewertungen
Gesamtbewertung des Besitzers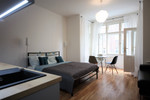 Naprostá spokojenost.

Lucie C.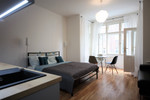 The apartment is in a great location with pretty much everything you need nearby as well as being close to local transport links. Zuzana has been a great host, very helpful and was available whenever needed. Highly recommend for your future stay in Prague :) Thank you Zuzana for looking after me so well! Stepanka H.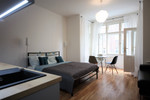 I had a great 2 months in the flat. Everything was exactly as pictured, and the large windows provide plenty of natural light. The neighborhood is one of the best in Prague, with plenty of lively bars, restaurants, and parks nearby. Would definitely recommend to anyone coming to Prague.

Thomas G.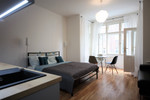 Paní Zuzana byla velmi vstřícná a byla s ní skvělá komunikace. Byt je krásný, čistý a světlý, přesně jako na fotkách. Doporučuji.

Jiří B.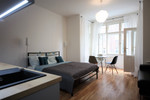 Zuzana is a friendly host and the studio is very well organised and equiped, clean, designed in a simple, but beautiful way, a few minutes away from the metro station, lots of shops, library, parks and restaurants.

Moscu G.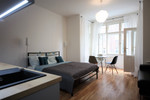 I spent approx. two month in Zuzana's beautifully furnished and modern apartment during my semester abroad and I felt home in Prague from day one after moving in. The apartment corresponds exactly to the photos shown in the profile and includes all necessities, which are needed for the daily life. I would like to positively highlight the great communication, hospitality and flexibility of Zuzana. She is a fantastic landlord and throughout my whole stay we had a great correspondence and she was caring and helpful. Moreover Žižkov/ Vinohrady (where the apartment is located) is a great neighbourhood with numerous cafés, restaurants, bars, shops or the well-known farmers market at Jiřího z Poděbrad square, which is just around the corner. Particularly expats like me will appreciate the area, since everyone speaks English and fluency in Czech is not necessary. Due to the proximity to the metro line A the city centre can be also reached within 10 to 15 minutes. All in all, I had a great time staying in Zuzana's apartment and everything ran smoothly without any unpleasant incidents. If I will come back to Prague, I will most definitely want to stay at her place again and I can recommend the apartment to everyone, who is looking for a beautiful, clean and cosy place to stay in order to make the most out of his stay in Prague! Jacqueline A.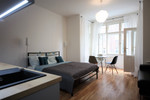 Zuzana was very helpful during my stay. The apartment was clean, had all necessities, and is conveniently located. There is ample natural light and the two balconies allow for a nice cross breeze during the summer. The neighborhood contains many parks, bodegas, and restaurants, with a couple of Alberts within walking distance.

Emily M.
Referenzen
Zuzanu poznam roky, je to veľmi spoľahlivá, mila, komunikativna a zodpovedná mladá dáma, ktorá miluje cestovanie, spoznávanie nových kultúr a miestnu gastronomiu. Venuje sa interiérovemu designu a v jej byte sa budete cítiť vzdy príjemne a ako doma :-) Jednoznačne doporučujem. Šťastný ten, kto bude bývať v jej utulnom a chic byte :-)